Parrot Mambo Minidrone (White)
Why We Love This
It shoots, it grabs, it flies like a dream! This drone features fun accessories, an advanced flight controller and can be piloted with your handheld device
About this item
Fire miniature balls at moving objects with the Cannon
Move objects through the air using the Grabber claw
Enjoy acrobatic tricks and flips in flight
Parrot Mambo Minidrone (White)
Description
Fire miniature balls at moving objects with the Cannon
Move objects through the air using the Grabber claw
Enjoy acrobatic tricks and flips in flight
Turn the sky into your playground with the Parrot Mambo. It comes equipped with Cannon and Grabber accessories and features an advanced flight controller, high-performance sensors and autopilot functionality.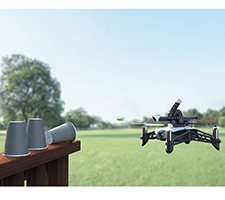 The Cannon With the Cannon accessory you can shoot it out with other drones or take to the skies for a little target practice. The pellets are lightweight and harmless so you can aim in on whatever you like..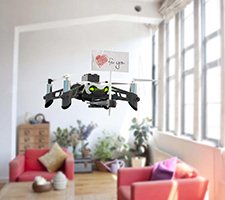 The Grabber Attach the Grabber to the Parrot Mambo and use it to transport mini-objects that weigh up to 4 grams. Simply activate the claw on the home screen of your FreeFlight Mini app, lift something into the air, and the rest is up to you.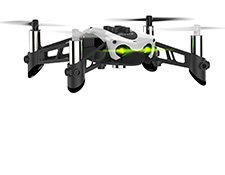 Fly With Your DeviceDownload the app and you're ready to go. FreeFlight Mini's easy-to-use interface makes piloting simple, even for beginner pilots. The app connects to your Minidrone via Bluetooth Low Energy. Once connected, select your preferred piloting method and take-off. You can pilot using virtual joysticks in Joypad mode (default setting), or by tilting your smartphone/tablet in the direction you want your drone to go in Accelerometer mode.
Specifications
One accessory for each adventure: Cannon (Shoot miniature balls up to 6ft away); Grabber (Catch, carry and release cargo up to 4g)
High-tech sensors work to provide optimal stability
Do fun acrobatics such as flips and barrel rolls
Control your Minidrone using the FreeFlight Mini app or the new Flypad controller (200 feet range)
Warranty
1-Year Manufacturer's Warranty
Manufacturer Info
If you have any questions or concerns, please contact our support team at 1.877.972.7768
Component Country
Imported
Shipping Info

Value - 5 to 8 business days

Standard - 2 to 6 business days

Premium - 2 to 4 business days

Express - 1 to 2 business days