Poly-Tex FieldPro Gothic High Tunnel Greenhouse (30' x 48')
About this item
Ideal for CSA farmers, homesteaders and pro-am gardeners alike
NRCS EQIP-approved high tunnel
Extend your growing season
Protect your crop
Increase yield and profits
Poly-Tex FieldPro Gothic High Tunnel Greenhouse (30' x 48')
Description
Ideal for CSA farmers, homesteaders and pro-am gardeners alike
NRCS EQIP-approved high tunnel
Extend your growing season
Protect your crop
Increase yield and profits
The Poly-Tex FieldPro® high tunnel was designed with the small fruit/vegetable and specialty crop grower in mind. With durable roof poly and roll-up sides, you'll have the ideal environment to extend your growing season, protect your crop and increase your yield and profits.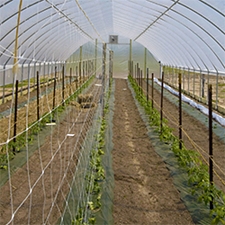 Easy to Assemble The FieldPro with Gothic roof gives you increased side wall and head room space, in addition to the benefits of a hoop house. The heavy duty frame assembles quickly to get you up and growing with years of durability.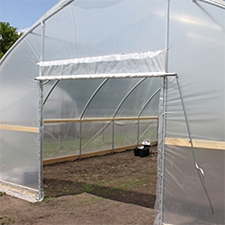 Everything You Need Standard Package for this house includes 5-piece frame sections (4-foot frame spacing), ground stakes, purlins, diagonal wind braces, peak bracing, ground stake driver, upper and baseboard lumber U-clamps, end-wall mount fittings and hardware (for lumber purchased separately), 10' x 8' roll-up end door with steel framing, Wiggle Wire™ poly fastening system, single-layer clear poly roof and ends, full-length manual roll-up sidewall vents including gearbox and hardware and a set-up manual. Lumber for end frames and side rails not included. This house is also approved by the USDA for use in the NRCS High Tunnel Initiative's Environmental Quality Incentives Program (EQIP).
Get the Best Greenhouse for your Needs Whether you want to extend the growing season, create the garden of your dreams or just need more space, find out more in our Greenhouse Buying Guide.
Specifications
USDA approved structure for the NRCS EQIP grant program
Extend your growing season and protect your crop
Industry leading 2" O.D. 14 gal. galvanized steel tube frame
4' frame spacing for increased strength
Standard package includes everything except lumber
Roll-up sides include self-locking gear box
Includes 6 mil UV stabilized polyethylene greenhouse film with 4 year limited warranty
3 runs of purlin
10' x 8' roll up end door with steel jamb
The Poly-Tex FieldPro® is intended for agricultural use and occupancy. This price does NOT include site specific engineering, building permits, site preparation, concrete or installation. Construction documents and certification by a locally licensed Professional Engineer are NOT included.
Please contact your local building official for required snow and wind load ratings prior to ordering.This item ships LTL delivery via truck carrier of the supplier's choice to the 48 contiguous states only. Customer is solely responsible for unloading item from truck. If you do not have a dock or forklift, you will need to be able to unpack and hand unload pallet from the trailer. It is not the driver's responsibility to bring freight into house, garage, etc. Drivers do not assist with unpacking, set-up or clean up.
Please include a daytime phone number in the shipping information at the time of checkout. Signature is required for delivery, but before accepting and/or signing for your delivery, please inspect your order thoroughly. If the packaging appears to be damaged in any way, please note the damage on the freight bill or refuse the delivery as damaged. If you discover concealed or internal damage after unpacking your item(s), please contact Poly-Tex Customer Service at 1.800.852.3443 Ext. 123 within 5 business days of receipt of your order. This will help improve and expedite your return/replacement experience.
For additional questions, please contact the Manufacturer's Customer Service Center at 1.800.852.3443.
Warranty
Frame 1 Year Limited Warranty, Poly 4 Year Limited Warranty
Shipping Info
Shipping not available to AK, HI or Puerto Rico
Large item delivery, curbside
Delivery agent will call and set up delivery appointment