Augason Farms Emergency Food Supply Kit (72 hours, 1 person)
Online only
Price includes shipping
Why We Love This
Frankly, these meals are so delicious—you won't want to wait until an emergency to try these recipes. Feeds 1 person for 72 hours with 42 servings.
About this item
42 total servings
7,680 total calories
Easy to prepare; just add water
For emergency, camping, and everyday use
Shelf life up to 25 years*
Augason Farms Emergency Food Supply Kit (72 hours, 1 person)
Description
42 total servings
7,680 total calories
Easy to prepare; just add water
For emergency, camping, and everyday use
Shelf life up to 25 years*
Food storage can often seem intimidating. Knowing what to get, how to make meals with what you have, and how to make sure you stay nourished in case of an emergency can feel daunting. Not only will you thrive on the nutritious meals, you will enjoy the variety and great taste. Meals are easy to prepare by simply adding water and simmering for a few short minutes. All this, coupled with a 25-year shelf life, and you have an emergency food solution freeing you from the worry of an unexpected emergency for years to come.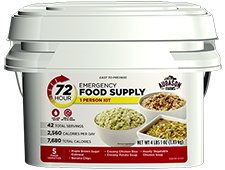 Figuring Out Your Emergency Needs
When buying any emergency food kit always consider the length of time the kit will feed the number of people being served and most importantly, the average number of calories the kit provides each person in a day. Be wise—the number of servings is important, but not all servings are the same size. Be ready—calories will sustain you and your family, not the number of servings. Augason Farms makes emergency preparedness simple.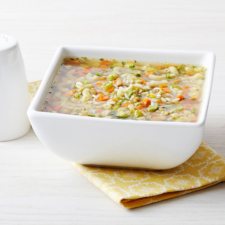 Wide Selection of Appetizing Meals
The Augason Farms 72-Hour 1-Person Emergency Food Supply provides 42 total servings and an unprecedented 2,560 calories per day. Five easy-to-prepare meal varieties—including breakfast, lunch, dinner and a fruit snack—are packaged in a convenient, grab-and-go pail.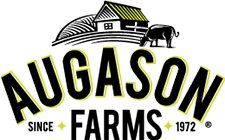 Augason Farms Means Top Quality
Family owned and operated for over 40 years, Augason Farms has refined recipes and sourced the finest ingredients to create the highest-quality, long-term freeze-dried meal solutions in the business. While most emergency food companies contract their production and packaging to outside manufacturers, they produce and package all of their food items from beginning to end.
Specifications
For emergency, camping, and everyday use
Contained in a watertight pail with handle
42 total servings
7,680 total calories
2,560 average calories per day
Just add water, easy to prepare
No refrigeration needed
Five meal varieties included in pouches:
Maple Brown Sugar Oatmeal
Banana Chips
Creamy Chicken Rice
Creamy Potato Soup
Hearty Vegetable Chicken Soup
Each pouch contains an oxygen absorber for freshness. Discard immediately after opening.
Shelf Life: Product is good for up to 25 years when unopened. Use immediately upon opening. Best when stored in a cool, dry and dark place at temperatures between 55 and 70 degrees F. Actual shelf life may vary based upon individual storage conditions.
Warranty
This product is covered by the Sam's Club Member Satisfaction Guarantee.