Advanced Pure Air Newport 9000 Air Purifier
Why We Love This
Breathe easy. The Newport 9000 uses UV light and an advanced filtering system to swiftly suppress airborne irritants such as dust, dander, pollen and mold.
About this item
Five speeds make it great for rooms of all sizes
Nine stages of purification remove most household pollutants
Fights dust, pollen, dander, odor, germs, bacteria, viruses and mold
Automated mode maintains air quality while saving power
Ultra-quiet operation
Advanced Pure Air Newport 9000 Air Purifier
Description
Five speeds make it great for rooms of all sizes
Nine stages of purification remove most household pollutants
Fights dust, pollen, dander, odor, germs, bacteria, viruses and mold
Automated mode maintains air quality while saving power
Ultra-quiet operation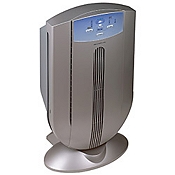 Give Your Lungs a Break Advanced Pure Air's nine-stage air filtration and purification system suppresses dust, pollen, pet dander, pet odors, cooking odors, tobacco smoke, toxic gases, odors and most other household air pollutants. Air is passed through a series of filters, which trap most air pollutants that irritate your lungs and cause reactions. The filter even suppresses toxic gases and hazardous chemicals like paint fumes and carbon monoxide, giving your lungs a safe environment to breathe in.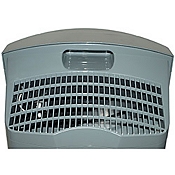 Stop the Spread of Germs and Illness Create a healthier environment in your home, classroom or office with hospital-proven technologies. Once air has been filtered, potent UV light works with TiO2 nano-sanitizers to throw a deadly knockout punch to most micro-organisms that can cause many of today's health problems. Suppress the growth and spread of bacteria, viruses, fungi, mold and germs without lifting a finger.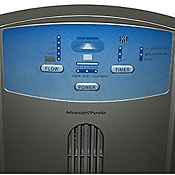 Maintain Air Quality Automatically The ultra-quiet multi-speed fans are effective for rooms up to 800 square feet in area. Manually turn it on and off with a remote control, or set it to turn off automatically once air quality is restored to ideal conditions. Should pollutants rise, the air purifier will automatically turn back on and adjust the airflow to meet the changing needs of the room. That way, you save energy and extend the life of the device, without having to compromise on air quality. Plus, easy-to-read control panels and sensors warn you when it's time to change the filter, replace the UV light or clean the collector grid.
Specifications
Ultra quiet 5-speed fan effectively moves and cleanses the air in all indoor household and office environments
9-stage Detection, Diagnostic, Filtration and Purification System
Air Pollution Sensors: Monitor indoor pollution levels and adjust system performance settings to maximize air cleansing effectiveness
As the air in the room improves or degrades (new pollutants enter from outside, cooking or hobby activities) the Newport 9000 will adjust the air flow to meet the needs of the room
Diagnostic Sensors alert you when it's time to replace filters or UV light or clean the collector grid
Washable Pre-Filter removes large airborne particles, allows the other filters to work more effectively and extends the overall life of your air purification/filtration system
Washable Electrostatic Dust Collector Plates trap tobacco smoke, pollen, dust, pet dander and other harmful airborne particles and pollutants like a magnet and washes easily under a cold running faucet
Activated Carbon Filter: Far and away the most effective filter for absorbing odors, toxic gases and hazardous chemical fumes including cigarette smoke and everything from paint fumes and toilet odors to poison gases
High-Performance HEPA Filter: A must have technology for those suffering from allergies and asthma, this filter is tested 99.97% effective in capturing harmful airborne particles as small as 0.3 microns including dust, pollen and bacteria as well as other harmful airborne germs and pollutants
Ultraviolet (UV) Light Irradiation: Recommended by the Centers of Disease Control and numerous other government and private agencies, ultraviolet light actually breaks down the molecular structure of mold, bacteria, viruses and other airborne germs rendering them harmless
Dual Photo Catalyst Nano-TiO2 Germicidal Sanitizers help suppress the growth of harmful microorganisms including mold, mildew, other household fungi, bacteria, viruses, dust mites and a variety of odors
Anion Continuous Negative Ion Generation helps put back the naturally occurring, healthy air cleansing properties of negative ions that urban living steals from mother nature; extremely effective at clearing smoke, decreasing carbon monoxide levels, combating airborne infections and even reducing fatigue
Multiple air inlets design maximizes air flow through the unit
Automated System Mode automatically adjust air purifier operational settings based on air quality; if the air quality is sufficiently clean the system drops into the lowest operational setting quiet mode to save electricity, but if the air quality worsens, the system automatically shifts into progressively higher settings to keep your room air fresh and clean
Manual on-off for continuous operation
1-Hour for 1 hour continuous on, then automatic turn-off
2-Hour for 2 hours continuous on, then automatic turn-off
8-Hour for 8 hours continuous on, then automatic turn-off
Intuitive Control Panel is easy to read and understand
Wireless remote control
Effective up to 800 sq. ft.
Owner's manual
110 Volt AC
Warranty
Advanced Pure Air warrants their air purifiers to the original consumer purchaser to be free from defects in materials and workmanship under normal operation and use for a period of one year from the date of original purchase. Under the terms of the warranty, Advanced Pure Air will repair or replace any defective part(s) free of charge.

Upon discovery of a product defect, within the warranty period, you should immediately notify Advanced Pure Air via telephone, e-mail or fax to obtain product return and shipping instructions (contact information is found in the manual and on the shipping carton). You should send the product, shipping charges prepaid in the original carton to the designated service location, accompanied by your name, address, telephone number, proof of purchase date and a description of the defect.

The warranty does not include unusual wear, damage resulting from accident or unreasonable use and also does not include replacement filters, bulbs or other disposable parts.
Manufacturer Info
For additional questions or concerns regarding this product, please contact the Manufacturer's Customer Service Department at 1-888-698-2080.
Assembled Size
23"H x 13.5"W x 9"D
Component Country
Imported
Shipping Info
Standard - 2 to 6 business days
Premium - 2 to 4 business days
Express - 1 to 2 business days
Delivery is not available to Puerto Rico